14 Really Good Things
Do you remember what you were doing a year ago?  Were you busy trying to conclude teaching that last unit so that grades would be finished before break?  And were you nearly as excited for winter break as your students, so that you could finally spend some time at home?  A year ago, we had just wrapped up a couple of Framework implementation conferences, and we were busily organizing more for 2020.  We were also so excited for winter break.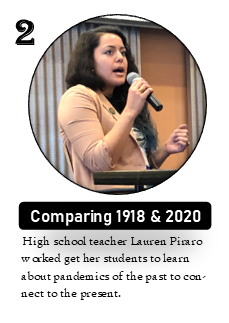 Of course, we had not anticipated that in just a few months, our worlds would turn upside down.  It took a little bit of time for us to wrap our heads around the fact that all of our in-person plans for the year had to be cancelled.  As we dealt with crisis after crisis, we were reminded that while we do not have the answers to the incredibly complex problems facing educators right now, we do know how to provide a space for smart people to work together for the benefit of California's students.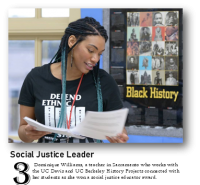 With that, we pivoted our work to highlight the great work that so many educators were doing. We share a few examples below as a contrast to the bad news we see, read, and hear every day.  This is just our initial list – we know there are more examples out there.  What good ideas, resources, or strategies have you developed in the last nine months?
Our colleagues at UC Berkeley worked with Bryan Shaw, a high school teacher who had created assignments for his students to document the crisis. High school teacher Lauren Piraro worked get her students to learn about pandemics of the past to connect to the present.  Bakersfield teacher Kathy Drewry went viral on social media as she worked to connect with her students.  Ana Orozco, a world history and cultural studies teacher in Lynwood taught her students to prioritize self-care through sentipensantes. Dominique Williams, a teacher in Sacramento who works with the UC Davis and UC Berkeley History Projects connected with her students as she won a social justice educator award.  Ryan Jones, a teacher in Watsonville who works with the UC Santa Cruz History Project, quickly refocused his teaching to prioritize his students' basic needs.  Our colleague Cindy Mata, from the UCLA History-Geography Project, developed a project called Platicas to encourage kids to connect with their families through their own photographs.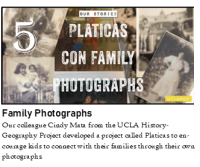 As a statewide network, we prepared a resource guide for parents who overnight found themselves playing a larger role in their kids' education than they ever imagined. We pulled together colleagues from around the state for a charette to discuss how to integrate environmental justice teaching into all K-12 classrooms. A variety of our Summer Institutes transitioned online. We updated our CHSSP website, posting dozens of new lessons to help teachers heighten student engagement in what became a fall term with many different kinds of school days.  This fall, we've worked on series' about the 2020 election, media literacy for civic engagement, and ongoing district support.  We've started a Grade Groups series, in which every grade level across the state has come together to discuss common challenges, goals, and strategies for their specific grade level.  Our commitment to reckon with racism led to statewide discussion groups, critical reading circles, and internal discussions that we committed to continuing.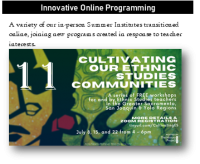 As much as now know how uncertain the future is, we're looking forward to 2021.  Grade Groups will continue.  Our colleagues at UC Irvine are hosting a workshop about Teaching the 1619 Project in January and are continuing workshops about How to Build Students' Media Literacy for Civic Engagement.  Our UC Berkeley colleagues are hosting a webinar about learning strategies in the virtual state.  In February our UC Santa Cruz colleagues are hosting a What Makes a Democracy workshop.  We have a new series about political cartoons in the works.  All of our events are online for now, which opens up participation to educators all across the state and nation.  The Teaching History conference scheduled for May will occur online (registration is now open).  We don't yet know whether summer institutes and workshops will occur online or in person.  But we can assure you that we're here, we're looking forward to connecting, and we're hopeful for what 2021 has in store for all of us.
Primary Category