First-Year Teacher Connects Pandemics with Meaningful History Lessons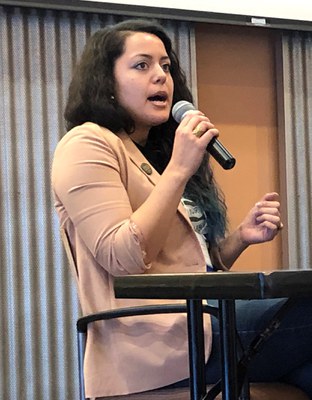 First year history teacher Lauren Piraro never imagined that her first year in the classroom would be cut short because of a global pandemic.  Thrilled to have landed her "dream job because Gilroy is where [she] completed [her] K-12 education," Piraro started her year with enthusiasm and a goal of making learning relevant for her Gilroy High School students.  Earlier in the fall of this year (which seems like a lifetime ago), Piraro reflected how much she loved "infusing my content with contemporary relevance and modern connections so students can see just how incredibly meaningful learning can be!"  Of course Piraro never anticipated that life would be so upended that, without a doubt, this school year would certainly land itself a new section in future history textbooks.
Perhaps Piraro's status as a first year teacher has positioned her to respond so quickly and thoughtfully to such a dramatic turn in life – and in teaching.  As soon as schools shut their doors, Piraro began designing lessons and activities that she felt her students would actually be interested in doing.  One deceptively simple lesson asks students the question: To what extent is COVID-19 similar and different to the 1918 Flu Pandemic outbreak?  With a couple of very brief yet powerful sources to digest – a film clip and a news source – students wrestle with much more complex historical thinking skills through engaging in her comparison.  Asking students to search for evidence to establish points about continuity and chance regarding the naming, spreading, and mitigating of the diseases, Piraro's lesson then asks students to draw conclusions about the impact of both pandemics upon daily life.  If ever historical empathy could be established and used as a powerful tool, Piraro has found it.  In fact, she uses the activities in the lesson as a bridge to truly connect with her students through the final two questions in the activity: "What are your general thoughts and feelings about school closures and shelter in place orders? How can I better support you during this time? What are you most interested in learning more about?"  When asked how students responded to the lesson, she noted, "Some students expressed feelings of relief after reading about the 1918 influenza crises and some students primarily shared their challenges and worries with me." At once a history teacher, curriculum developer, and lifeline for so many students whose lives have been made immeasurably more stressful in the past 30 days, Piraro seems to be making every effort to maintain a bond with her students.
Sometimes these bonds come easier when teachers themselves know the value of support and collaboration.  Rachel Reinhard, UC Berkeley's History-Social Science Project's (UCBHSSP) Site Director explained: "We first met Lauren when she was a pre-service teacher. She attended two UCBHSSP summer programs. On the final day of the second institute, a veteran teacher noted with surprise that she had just learned that the young woman she had been meaningfully collaborating with all week was yet to independently lead a classroom. She was astounded by Lauren's maturity, groundedness, and clear eyed vision."  From that first institute, Lauren has quickly established herself as a leader on many levels.
Despite the stress of being a first-year teacher, Lauren joined the Integrated Action Civics Teacher Research Group led by the UCBHSSP in collaboration with the Santa Clara County Office of Education.  As Program Coordinator Devin Hess explained, "she has shared many innovative adaptations of the models and strategies we have been exploring, always looking for creative ways to engage and empower her students."  It was within this research group that Piraro and her colleagues quickly shifted their scheduled pedagogical discussions to address the COVID-19 crisis.   Hess explained that this context led Lauren to develop her lesson on COVID-19 and the 1918 Influenza Epidemic. 
Connecting with her students at a time of crisis through innovative lessons like this come easier through collaboration.  In this time of such intense isolation and uncertainty, Piraro is showing her students and educators that now more than ever is it essential to make the present more meaningful by understanding the significance of the past.  According to Piraro, this lesson in particular helped her to consider "how critical the study of history can be as a vessel for human connection and personal growth for both the student and the teacher."  
To download Lauren Piraro's pandemics lesson, click here. 
Primary Category