Race and Social Inequality in 7th Grade World History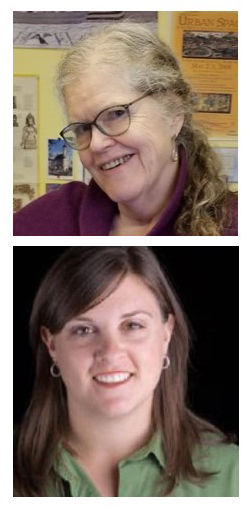 Shennan Hutton and Stacey Greer are excited about 7th Grade.  The two longtime world history leaders are eager to explore how to "teach about race and social inequality in 7th grade world history," according to Hutton, a former high school world history teacher, current UC Davis lecturer, and writer of the 7th grade Framework chapter along with the Sites of Encounter Blueprint Unit (including this fantastic map).  Hutton is partnering with Stacey Greer this fall to co-lead the 7th Grade Group in our statewide network's newest online collaboration – Grade Groups.  A former middle and high school teacher, Greer also worked as a history-social science consultant at the California Department of Education, before assuming her current role as Director of the UC Davis History Project.
The 7th Grade group will address the content, disciplinary, and distance learning challenges that teachers are facing.  Shennan is especially excited to explore how to "teach about race and social inequality in 7th grade world history."  Shennan and Stacey plan to focus on slavery and Mesoamerica, two topics for which teachers often lack grade-specific resources.  Stacey and Shennan plan to share lessons, primary sources, inquiry strategies, scholar presentations, and literacy supports that will help teachers implement the Framework through online instruction.  Shennan recently explained about the value of collaborating across the state with other 7th-grade world history teachers: "Teachers are under tremendous pressure right now, as they are expected to cope with transitioning to online instruction and implementing new procedures without a lot of support. For most teachers, this has been like first-year teaching. The Grade Groups are a way to get support from others in the same situation. A teacher doesn't have to struggle alone, but can learn, plan and practice new strategies for teaching inquiry through online media."
The Grade Group series is specifically designed to provide teachers with the resources and support they will need to teach this fall.  The 7th Grade Group – like all other groups – will offer educators from across the state the opportunity to talk with each other, share new ideas, and think together about how best to teach their particular content  and address students' social and emotional needs in this new and admittedly difficult context.
Grade Groups are set to begin on September 24 at 4:00 with a special presentation by USC Professor and Neuroscientist Mary Helen Immordino-Yang on the impact of trauma on student cognitive and emotional development. In addition to the September 24 event, the 7th Grade Group will meet on Thursdays from 4-5:30 pm beginning November 5.
For more information about the Grade Groups series, click here.  Registration Fee:  $185. To register online via credit card, click here.  To register via check or purchase order, click here.
Primary Category
Tags