Nothing Less Than Justice: New Public History Website on 1977 California Women's Conference
"Nothing Less Than Justice" is an exciting new webpage memorializing and investigating the significance of California's International Women's Year as well as the lives of participating delegates. The ambitious digital humanities project, which presents multiple possible classroom uses, is the result of a collaboration among the University of Houston and the University of California's Irvine, Davis, and San Diego campuses. The CHSSP's partnership with the UC Davis History Department resulted in a history lab leading UC Davis contributions to the project. of the necessary research for the project as well as subsequent public engagement.
The title of the project comes from a line from the poem "To Form a More Perfect Union" which was written by Maya Angelou and performed at the 1977 National Women's Conference held in Houston, Texas in November of that year. The National Women's Conference in Texas was the first and only use of federal funds for such a conference and for the creation of a women's agenda to be presented to the President. With funding from the National Endowment for the Humanities, the University of Houston launched a multi-year research project called Sharing Stories 1977 which produced an expansive digital humanities site that celebrates the 50th anniversary of the NWC through the collection, presentation, and preservation of the stories of NWC participants. The California Women's Conference was one of 56 state and territorial pre-conferences in which delegates raised issues and agreed upon resolutions to present at the national conference. California sent the largest delegation (96 women) to Houston with a final list of 44 resolutions including resolutions concerning Latina, indigenous, and lesbian rights.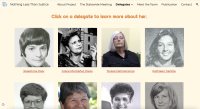 Not all of California's 96 delegates, nor all attendees of the 1977 California Women's Conference are well known, although they each of these individuals presents unique window into political participation. The effort to map the delegates from California was led by Judy Tzu-Chun Wu, a UC Irvine professor and Sharing Stories lead, invited collaboration from faculty, graduate students, and undergraduates across the UC system
Materson offered undergraduates the opportunity to contribute to this project through her HIS102 course. History 102 is an annual upper-division undergraduate history course that focuses on different themes. For the winter 2022 quarter, Materson led this course as a history lab on the 1977 California Convention. Wu simultaneously led graduate student researchers and undergraduates to conduct similar work at UC Irvine and spearheaded collaboration with graduates and undergraduates at UCSD and CSU some of whom worked under additional principle investigator Rebecca Jo Plant. CHSSP's partnership with Materson's history lab enabled rich exchanges between various stakeholders in the project.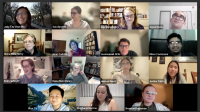 This collaboration allowed faculty members, undergraduates, graduate students, and archivists to each have a stake in shaping the final product. Materson's history lab worked with the CHSSP to introduce UC students to other experts and  Daniel Castaneda, one of the inaugural Marchand Center for Public Engagement interns, spoke to students about primary source research. This was enriched was further visits from a California State Archivist and Jason Sarmiento, the Head of Archival Processing at UC Davis. Through these visits, undergraduate researchers learned about visual representation in virtual exhibits, copyrights for digital materials, and the multiple public audiences and applications of historical scholarship.
By the end of the term, the training and experience gained by new researchers in Materson's history lab contributed to delegate pages on Nothing Less than Justice that will also be published on the on the Sharing Stories 1977 webpage as well as a virtual conference on research findings. This Conference was a valuable opportunity for faculty researchers, graduate researchers, and undergraduate researchers from all the participating campuses to talk about what they learned about historical research, digital humanities, and value of personal stories to the histories of social movements even beyond what appears on the website. For Materson lab student, Ulisses Castorena, this training in historical research and participation in public scholarship even contributed to his later work in curriculum development with the CHSSP as a part of the Cruz Reynoso Curriculum Project.
Through both the Nothing Less Than Justice conference and the Nothing Less Than Justice website, these archivists, professors, student researchers, and public historians have modeled both cross-institutional collaboration and public engagement.
For teachers who want to bring this exciting project into their classrooms:
Visit this post on the CHSSP Blog!
Primary Category
Tags