Teaching About Political Participation and Community
Using the new Nothing Less Than Justice Public History Website on 1977 California Women's Conference the Classroom
"Women were rarely mentioned in history books," which, according to Beverly Fitch McCarthy, one California's delegates who was selected to attend  the 1977 National Women's Conference, made her come to the realization that she might be a feminist. McCarthy graduated from her California high school in 1953, and, by the time she was selected as one of the state's 96 delegates to represent California's women at this national women's conference in Houston, Texas, she was aware of how different and important the perspective of women was in understanding the past and present.  In spite of what she and so many delegates voiced in 1977, more recent high school students and graduates are still often missing opportunities to learn about women and gender in history courses beyond discrete lessons on suffrage or women's movements in the 1960s and 1970s.
Holding discussions about women and gender only in isolated units on women's movements is a missed opportunity for students to engage with the varied ways that gender impacts political and social movements. An exciting new website, "Nothing Less Than Justice," developed by scholars across the state of California is also a versatile resource that can be brought into the classroom to expand student's understandings of women's issues and the varied ways that gender, race, class, and geography impact individuals' experiences.
"Nothing Less Than Justice,"was a project launched by UC Irvine Professor Judy Tzu-Chun Wu who also worked with the Sharing Stories 1977 initiative based out of the Center for Public History at the University of Houston. While Sharing Stories commemorates the National Women's Conference that year, Nothing Less than Justice memorializes and investigates the significance of California's International Women's Year as well as the lives of participating delegates. The website contains overview of aims of the conference, breakdowns of demographic representation, an interactive map, a timeline of events, and a series of webpages about individual delegates. These delegate biographies not only demonstrate varied experiences of womanhood and the collective political impact of ordinary people but also how the lives of historical actors continue after their shared experience of a given historical event.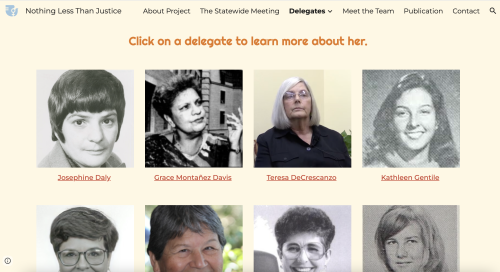 In 1975, the United Nations held the first World Conference on Women in Mexico, City and then christened 1976-1985 the United Nations Decade for Women which was meant to promote equal rights for women across the world. In the United States, contemporaneous movements for women's rights took up such issues as violence against women, harassment, welfare rights, reproductive rights, education, and discrimination. By 1977, many US women felt that they were at a crossroads and the opportunity to convene with other representatives represented potential breakthroughs in decades-long struggles.
Having a specific event through which to investigate these topics will be valuable for 11th and 12th grade students studying continuity and change in modern United States History as well as Civics and Ethnic Studies. However, the variety of tools on the website also offer exciting opportunities for elementary learners including 4th graders learning California History. One way to encourage students to think about political participation and community involvement is through engagement with the interactive map on the website. The map demonstrates the areas of California that delegates represented and could be connected to the location of your school. Locating your school on the map and the closest delegate to attend the conference could be the start of a discussion about how different communities might have different concerns. Many of these delegates, like San Francisco's Mariko Tse, Los Angeles's Grace Montañez Davis, and Santa Monica's Aurelia Morris, have accompanying webpages that provide details about their concerns and their lives before and after the conference. These webpages coupled with the map present an example in thinking about the impacts of place and community on social issues. Students, like 2nd graders studying heroes, may also enjoy reading each delegate's biography or taking responsibility for reading different biographies and reporting back to each other on how their chosen subject remembered the conference.
The Nothing Less Than Justice site, as well as Sharing Stories 1977, each model  ways that public history and the digital humanities provide vehicles for bringing the history of women and gender to a wider audience.
Primary Category
Secondary Categories
Tags