Teaching Lower-Elementary Students during the Pandemic
Last week was our first TK-3rd Grade Group of 2022. The timing of it - the second week after winter break, and in the middle of the Omicron surge - almost convinced us to cancel the Zoom workshop. Teachers did not have any extra time. Everyone seemed to be either sick or running on fumes. In no way did we want to add to the burden and to-do list.  But my co-facilitators, Kate Bowen and Katharine Cortes, and I decided to hold it – hoping that teachers could use a space to connect, commiserate, and plan.  We had tentative plans to talk about developing budding historical thinking skills in young students; we had primary source sets and a model lesson about how to help students learn to compare different ways that students go to school across space and time; and we had plans to talk about how any number of the activities could be done in-person or sent home for virtual/quarantine instruction.  What came out of this evening session was a firm reminder of the value of teacher collaboration.
Alicia and Fabiola Mejia-Garcia, sisters who are both second-grade teachers at 93rd Street STEAM Magnet School in LAUSD (and alumnae of the same school, which is about ten minutes from Watts), attended last week's workshop and impressed us with their thoughtful reflections and insights.  Towards the end of the session, we learned that both of them were home sick, dealing with their own cases of COVID, working through sub-plans, and yet still showing up for their students, and each other.  In an effort to shine a light on talented hard-working teachers like Fabby and Alicia, we reached out to ask how they have managed during the pandemic.  We have excerpted portions of their conversation to highlight some of their strategies and insights.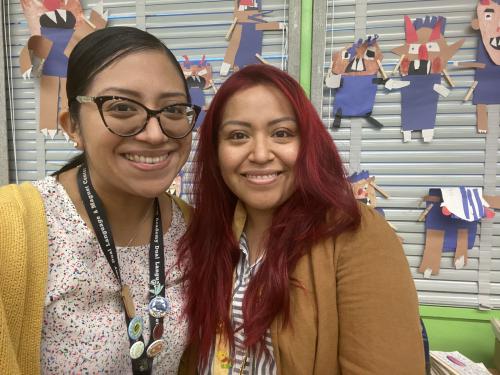 On teaching first and second-grade students during the pandemic:
Many of our students had connectivity issues, and because their parents and siblings were unavailable to help them due to work or school obligations, my then-first graders were forced to take on additional responsibilities. Not only were they now responsible for logging in to Zoom, memorizing a brand-new schedule, learning online management platforms, but suddenly they had to help their kinder or TK siblings with their own tech issues. It was heartbreaking, but it also helped me to see how strong and capable they are, how resilient they became in a matter of weeks. 
This situation helped me to see how beneficial public schools are to the everyday lives of students, families, and communities. Not only are routines established for children, but even basic skills, such as being able to state one's needs or counting past 30 have not been fully developed with some of my 2nd graders.
On trying to develop early-elementary speaking, listening, and historical thinking skills, in a pandemic, with an implicit focus on social and emotional learning:
One of the ways we have used the primary source sets in the past is to establish routines at the beginning of the school year. I used the 1st grade set to help discuss rules, citizenship, as well as speaking and listening skills. Initially, I pair students based on their strengths and needs. For example, a shy student may be placed with a student who is more confident in speaking and sharing aloud. 
We focus on visual and oral cues, such as looking at our partners when they are talking, adding to their ideas, summarizing what our partners have shared, or asking questions about what has been stated. This year, I've focused on greeting our partners before starting our conversations ("Good morning. Would you like to share first?" "Yes, please" or "No, thank you. You may start.") as well as thanking them for sharing after our time is up.
Some students have even worked on calming strategies before initiating a conversation. (I have a particular student who gets extremely nervous when talking to others and will start shaking or tearing up). These strategies include taking deep breaths and encouraging other students to state, "I'm sorry, could you repeat that?" so that they can advocate for themselves when listening to others, but also to help each other realize that we support one another as a learning community. A few students also work on counting their ideas or words so that they are understood when sharing. (This is especially important for our students who [are in] speech [therapy].)
On how Alicia and Fabby think we can show up for our students:
We need to demonstrate and practice patience with each other. Our students are so patient with us, yet our districts' demands are not. Our students need more time: more time for play, more time to socialize with each other and to engage in conversations with their peers or to even complete their work. They need more time to be kids. Right now what we don't need are additional responsibilities or stressors. Teachers shouldn't feel worried about assessments and test results or even classroom observations when we are all trying so hard to simply stay afloat and be in the moment with our students.
At this moment it is of utmost importance for schools and teachers to prioritize the relationships we have with our students while teaching them how to be critical thinkers that will enable them to make decisions for themselves and their families; if there is something that Covid has taught us is that misinformation can have devastating effects on individuals, families, and communities. 
A note from their former department chair at CSU Dominguez Hills, Lisa Hutton:
Alicia and Fabiola have had an amazing trajectory! They have transformed from undergraduates and then student teachers to experienced educators. After completion of their credentials, Alicia and Fabiola were a delight to have in our summer history project workshops and have developed skill in creating both age-appropriate and culturally responsive lessons that develop historical thinking skills and pair primary documents with literature and informational texts. They have even shared their lessons with current credential students as part of a history-social science conference at Dominguez Hills. Most of all, I am so proud that both sisters continue to be passionate about supporting their young students in their school and community.
Primary Category
Secondary Categories
Tags