An Unexpected Source at a Summer Institute
This summer has been a busy one for us at the California History-Social Science Project! We have had the pleasure of hosting a number of summer institutes for educators across the state and have benefited from the shared knowledge and experiences of the teachers, teacher leaders, graduate and undergraduate students, and academic specialists who have joined us. Two weeks ago, we hosted the 2023 CHSSP Cruz Reynoso Summer Institute at UC Davis, where participants were able to work firsthand with the "Democracy by Participation: The Life and Legacy of Cruz Reynoso" curriculum project on the first Latino Associate Justice of the California Supreme Court. As part of the institute, participants visited the Special Collections Department at the UC Davis library to learn about archival research and view the papers of Justice Reynoso. The archivists at Special Collections were incredibly courteous and even shut down the entire department and reading room for the day to allow participants to have a fully immersive archival experience– this was the first time Special Collections has ever closed for an event!
At one point during our day in Special Collections, archivist Christine Cheng brought out an unexpected primary source to share with us. The oldest artifact in their collection is a nearly 4,000-year-old cuneiform from Mesopotamia.  While fascinating to examine in real life, this small clay tablet could also be a great entry point for 6th-grade teachers to teach their students about cultural artifacts.  There is cuneiform writing on both sides and most of the narrow edges, written by a Sumerian scribe around 1974 BCE, during the Third Dynasty of Ur.  Although there is a translation, students would find the text boring, and in fact, the contents were never meant to be exciting reading.  It's an administrative document listing how many people were to be hired to do farm work in the fields belonging to a temple dedicated to Shara, the chief god of Umma in southern Mesopotamia. 
But to me, standing in the Special Collections Department of the UC Davis library, this tablet was incredibly impressive.  I was stunned by how tiny it was, and how beautifully preserved.  Seeing it up so close, I felt the special presence of something truly ancient.  It is now very important because it is the oldest primary source preserved in the Special Collections Department.
Our day in the archives was both fascinating and informative. Special Collections is a quiet oasis in a large university library bustling with students during the school year.  The door is locked and there are special rules for looking at and working with the books and texts preserved there.  That's because, as originals, they must be protected.  However, anyone can walk up to the Special Collections door, knock, and ask the staff if they can see the Sumerian tablet­– or any other primary source collection they might have an interest in.
A real primary source that old is a thing of wonder!
Read more about this tablet here!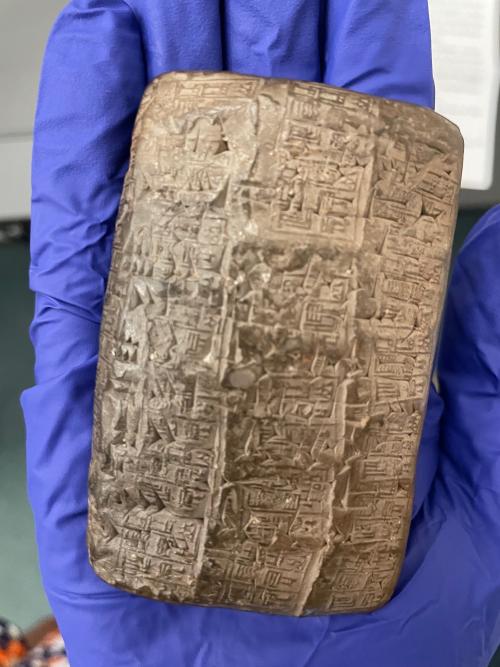 Primary Category