Assistant Director Tuyen Tran Selected to Serve on America's 250th Birthday Celebration Advisory Council
Tuyen Tran, Assistant Director of the California History-Social Science Project, was announced on October 15th as a member of the America250 Foundation's History Education Advisory Council for a one-year term.
The America250 Foundation is a nonprofit partner of the U.S. Semiquincentennial Commission. Congress established the latter to "encourage Americans to remember our past, celebrate the present, and look forward to a promising future." The nationwide commemoration of America's 250th anniversary will happen in 2026. The Foundation established 11 Advisory Councils, composed of leading experts and industry leaders, to support their program development, implementation, and social impact.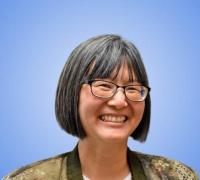 The objective of the History Education Advisory Council specifically is "to deepen our shared understanding of the nation's past and broaden our understanding of each other as Americans." This will require the development and dissemination of resources across grade levels and professional learning for educators to implement them.
Tran reflected on this appointment that, "I'm thrilled to be part of an effort that is committed to an inclusive commemoration, one that seeks to engage people of every background and every community." On the council, she will share her perspectives and expertise as someone who works directly with California's K-12 history-social science educators and university faculty. 
Tran will be joined on this council by another Californian, Karalee Wong Nakatsuka, who teaches at First Avenue Middle School in the Arcadia Unified School District.  Nakatsuka shared in Tran's excitement, noting, "I am so excited and honored to serve on America250's History Education Advisory Council to plan the most inclusive commemoration in the nation's history.  This is a wonderful opportunity for us to deepen our understanding of our past." Together, Tran and Nakatsuka will be strong advocates for California teachers and students on the History Education Advisory Council. 
For more information on the History Education Advisory Council, please visit their website here.  
Primary Category