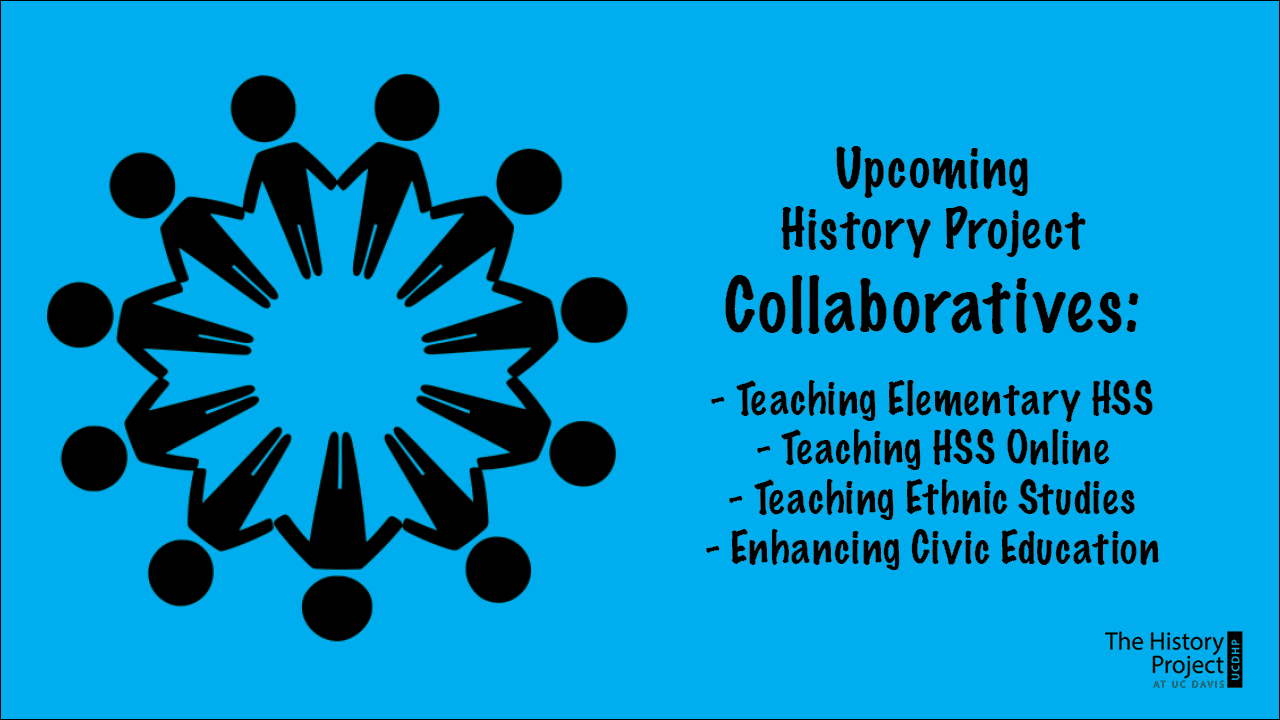 Location
History Project at UC Davis, UC Berkeley History-Social Science Project, UCI History Project, and the History & Civics Project at UC Santa Cruz
Four different collaborative groups for educators to support each other by sharing resources and discussing challenges of teaching during this pandemic and beyond:
Teaching HSS Online
Enhancing Civic Education

Session #1 July 16, 10-11:30am. What does it mean to be civically-empowered people? Educators will share current challenges, resources, and goals in breakout groups. UCBHSSP Teacher Leader, Holly Royaltey shares a strategy for helping students break down the "why" and "so what" of social problems.  Resources forthcoming.
Session #2:  September 17, 4:00-5:30 pm What are the core concepts/principles of media literacy? 
Session #3: October 1, 4:00-6:00 pm What are the specific practices that students need to critically read and analyze political sources, such as speeches, posters, media advertisements, and social network posts? How have Presidential candidates effectively used the media? 
Session #4: October 15, 4:00-5:30 pm What does media literacy look like in your classroom?
How do we turn students' media literacy into sustained civic engagement? 

Teaching Elementary History-Social Science

Session 1:  June 25, 4 - 5 pm.  Resources from session.
Session 2:  August 13, 3:30-4:30pm Join teacher leader Brianna Padilla as she shares her approach to social justice in her Kindergarten classroom. Register here.

Local Histories of Racism.  For more information, click here.  To register, click here

Session 1:  July 8, 1 - 2:30 pm.  How have other communities in California explored their past and determined steps of reparation?
Session 2:  July 10, 1 - 2:30 pm:  How can I Iearn about the history of race and racism in my community?
Session 3:  July 22, 1 - 2:30 pm:  How can I share what I found with students?
Session 4:  July 24, 1 - 2:30 pm:  What might transitional justice look like in my community?
Meeting times may vary by group.  More information and registration information updated regularly.