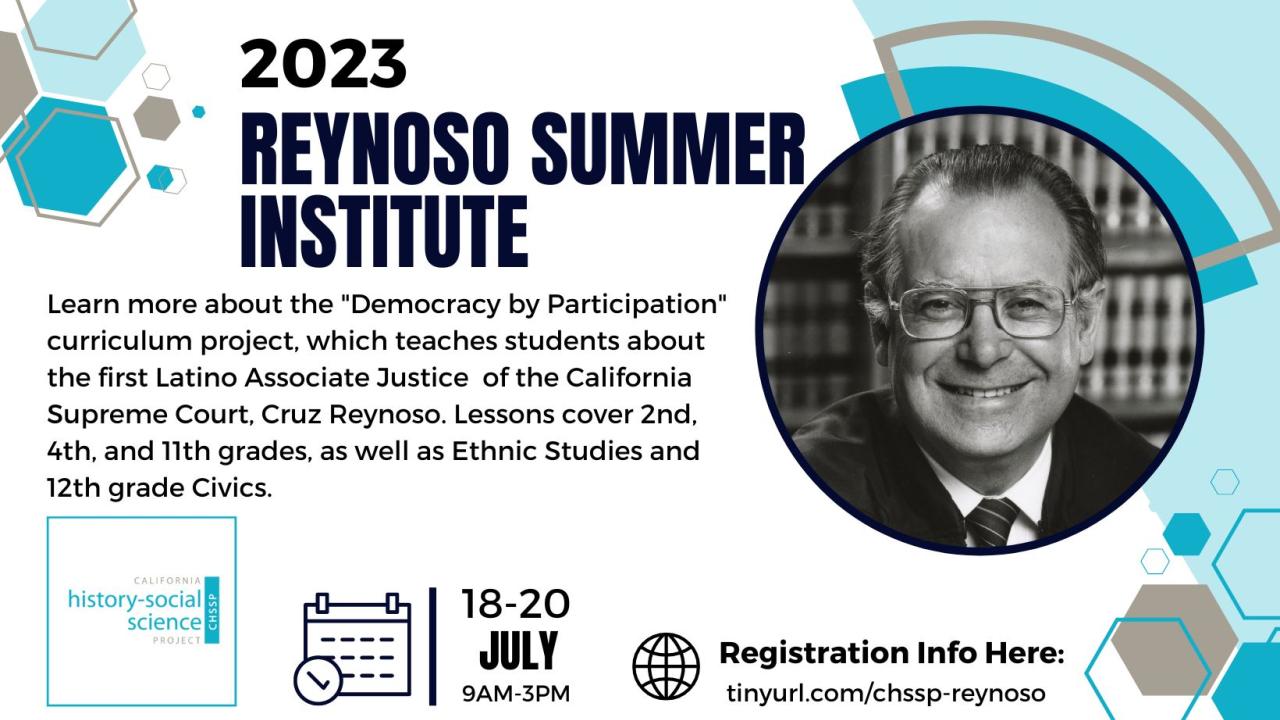 2023 CHSSP Reynoso Summer Institute
Who:
The CHSSP invites teachers across the state to apply to join a Summer Institute focused on a curriculum set about Cruz Reynoso, the first Latino Associate Justice of the California Supreme Court.
What:
Last year, the CHSSP co-sponsored an exhibit detailing the life and legacy of Cruz Reynoso, which formed the basis for five inquiry sets, including: 

2nd Grade - Heroes in Our Community
4th Grade - California History
11th Grade - US History 
12th Grade - Civics
Ethnic Studies

This summer, the CHSSP is hosting a group of teachers for three days, between July 18-20.
Teacher leaders will hear presentations from leading scholars, learn about how to implement new inquiry sets, and experience working with archival sources.

Participants will have the opportunity to conduct research in Shields Library at UC Davis to see primary sources that they can use in the classroom

The CHSSP is especially interested in working with teachers who wish to learn more about the following areas: 1) civics; 2) elementary social studies; 3) ethnic studies (especially Latina/o/x history/identity); 4) California history.
When:
July 18-20 at UC Davis, 9 am-3 pm each day 
Where:
On the campus of UC Davis.
How:
Deadline to apply is May 17th!
The Institute is FREE for participants
Participants will receive a Certificate of Completion
Continuing Education units available for purchase upon request
Why:
To learn how to implement exciting inquiry sets!
To learn more about Latina/o/x history and California history. 
To learn how to integrate ethnic studies and civics education across grade levels.
Questions:
Please email Daniel Castaneda (dancastaneda@ucdavis.edu) with any questions.
Deadline to apply is May 17th!