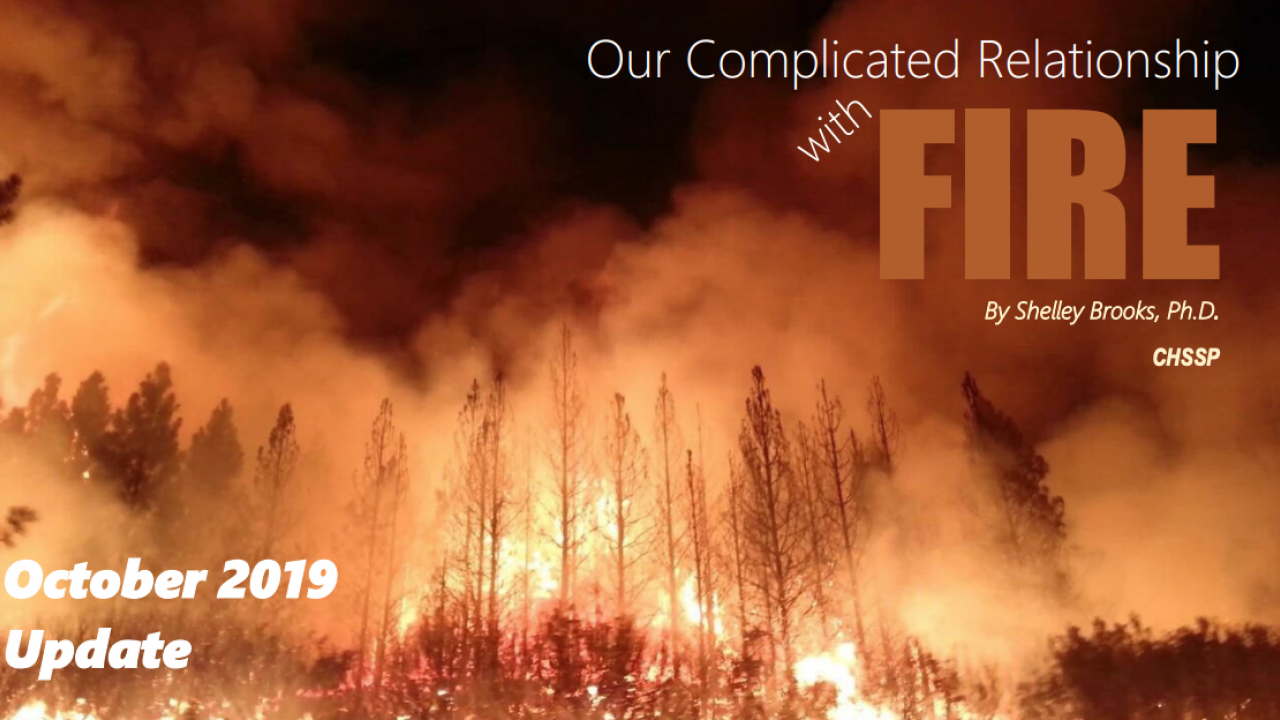 Abstract: Every year we hear about fires burning throughout California and the arid West. Though 2019 fires have so far been less destructive than 2018 fires, there is little reason to believe that the Camp and Woolsey fires of last November will long remain among the largest or deadliest in state history. Experts tell us that we should expect fires of such ferocity to continue well into the future. The reasons for such destructive fires are many, including higher temperatures and extended droughts associated with climate change; historic fire suppression policies that leave built up fuel in the forests; and settlement in fire-prone areas that can help ignite fires and leave people and their homes vulnerable.
Teaching Suggestions:
If you are looking for complete lessons that will give your students standards-aligned, in-depth information about the relationship between fire and human history, the Education and the Environment Initiative (EEI) units have multiple helpful lessons, including lessons on the burning of fossil fuels and industrialization, and the connections to climate change. Below are some highlights, and to see the entire list of relevant lessons for almost all grade levels, see page 6 of the Current Context piece.
4.2.1. California Indian Peoples and Management of Natural Resources, lesson 6 "A Burning Question – California Indians' Use of Fire." This lesson helps students understand the many ways in which California Indians regularly set fires to their landscape for reasons as varied as improving their harvests to providing for easier movement through the forests. The lesson activity includes student "mini-dramas" to reinforce lesson concepts. Engaging maps and visuals provide additional support for student learning.
6.1.1. Paleolithic People: Tools, Tasks, and Fire, lesson 4 "Fabulous Fire." This lesson explores the ways that Paleolithic people used fire to their advantage, and what fuels they used to create this fire. Students learn that fire, as a cooking tool, improved people's health and food supply. Finally, students look for continuities between tools used during Paleolithic times and today.
10.3.1. & 10.3.5. Britain Solves a Problem and Creates the Industrial Revolution, lesson 3 "More People, More Cotton, More Coal." In this lesson, students analyze data on population growth, cotton consumption, iron production, and coal consumption during the early industrial period to understand the growing demands on natural resources to fuel economic development. Students also examine primary sources such as paintings and letters to better understand the environmental impact of industrialization on Britain's air and water quality.
Consider listening to this NPR interview with Jennifer Montgomery, leader of California's Forest Management Task Force, as she succinctly describes why wildfires are becoming more common and what we can do to improve this situation: https://www.npr.org/2019/10/28/774120054/wildfire-season-is-here-to-stay
Have you been teaching about fire in California, or elsewhere, with this year's big fire season? Please share any ideas and resources you have for your colleagues. Write to us at chssp@ucdavis.edu.