2019 started with a bang for us last week, as many of my CHSSP colleagues and I, along with our friends from the California Department of Education, traveled east to attend the annual meeting of the American Historical Association (AHA) at their annual meeting in Chicago.  We travelled to Chicago to accept the Beveridge Family Teaching Prize for distinguished K-12 history teaching.  We won the award in partnership with the Department of Education, for our work on the History-Social Science Framework, adopted by the California State Board of Education in 2016.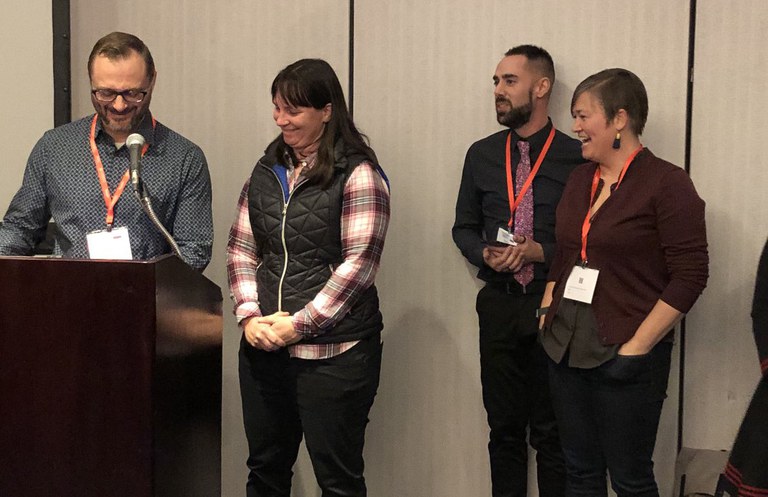 Don Romesburg announces winner of the 2019 Romesburg Prize at the American Historical Association Conference in Chicago.
What we didn't know is that our site at UC Berkeley would also be awarded the first Don Romesburg Prize from the Committee on Lesbian, Gay, Bisexual and Transgender History, an affiliate of the AHA.  Our colleagues at the UC Berkeley History-Social Science Project won the Romesburg prize for their lesson on the Lavender Scare and McCarthyism.  In their award letter, the Committee commended UCBHSSP's Rachel Reinhard and Emily Richards for the quality of the lesson's historical content and pedagogy:
"This lesson's focus on the Lavender Scare as an extension of larger Cold War fears allows
educators to clearly see its significance and connection to their existing curriculum. In addition, this lesson's emphasis on close reading, analysis of primary sources, and weighing and corroborating evidence aligns it squarely with state and national Common Core literacy and inquiry standards. The lesson is especially laudable for explicitly centering the historical analysis on the short-term and long-term impacts of the Cold War era on the LGBT community."
For more information on the winning lesson and to see additional curriculum the Berkeley site has developed in support of the FAIR Act, visit their website.  And for more information on the FAIR Act (SB 48), visit the CDE website or read our 2017 blog post.
Happy 2019!