Monthly Highlights – December 2021
Our Year in Review
We have so much to be thankful for and proud of this year. Take a look at some of our highlights from 2021, and be sure to scroll down for some useful resources: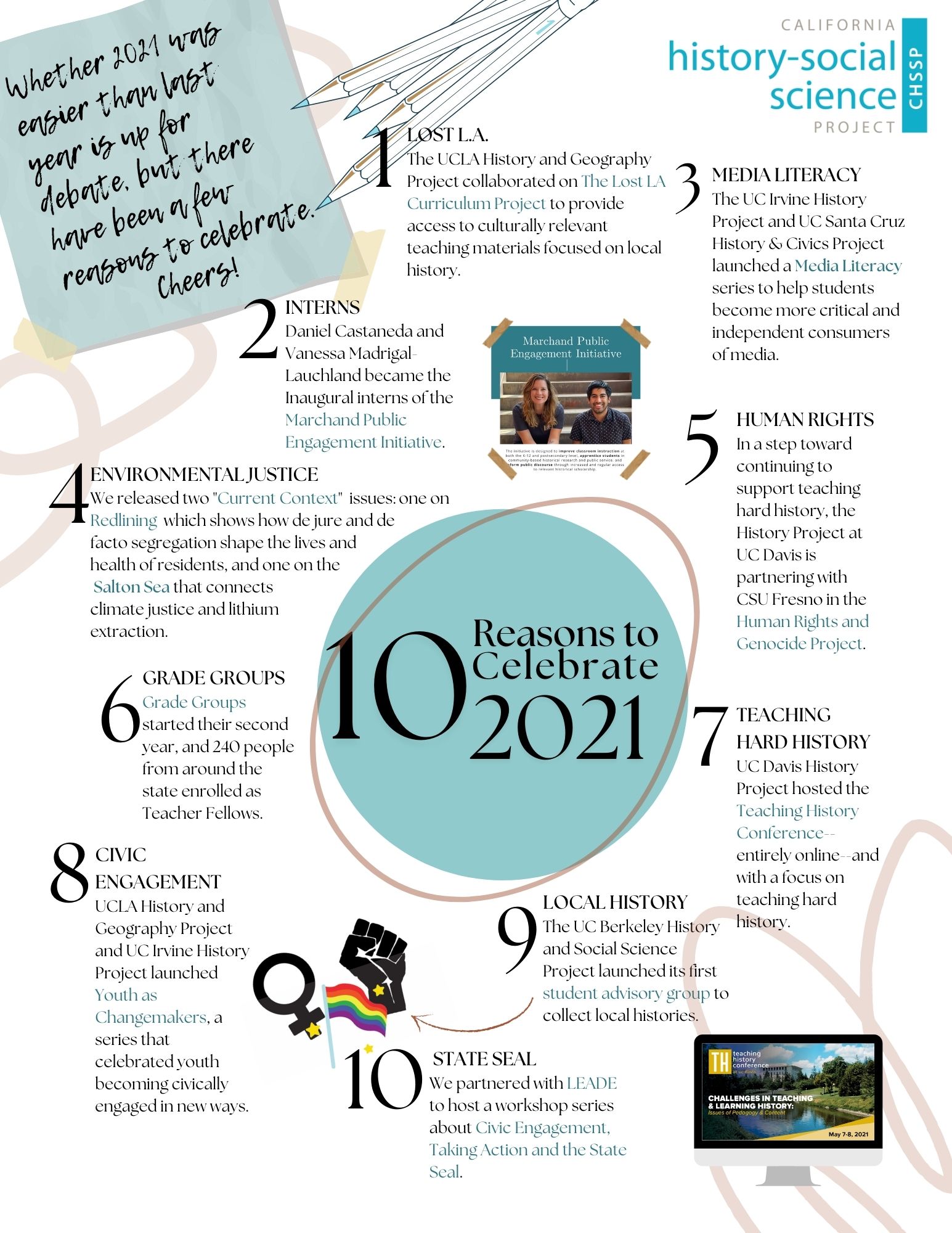 For a PDF version of this document with live links, please click click here.  
Featured Teaching Resources
In the past months, we have selected particular lessons from several different resource collections that we offer. This month, we want to zoom out and provide an overview of what each collection offers you, how you might use it in the classroom, and why it is unique.
Picture Books 
As the nights grow longer and the cold settles in, many of us find light and warmth during December by drawing closer to our families and friends. In that spirit, the books we chose for this month emphasize community.  These books will immerse your students with stories of empathy, kindness, and connection. 
"A Friend for Henry," words by Jenn Bailey and pictures by Mika Song. 

Henry would like to find a friend. But he discovers his classmates are too loud and busy. In this sweet story about a boy who just wants a friend, we learn how to meet people where they are. This book about a child with autism could be used to promote an inclusive environment in the classroom and help students explore different ways to play.

 

"And Tango Makes Three," by Justin Richardson and Peter Parnell

This true story of two penguins helps students see that all families are grounded in love. At the penguin house at the Central Park Zoo, two penguins named Roy and Silo were a little bit different from the others. But their desire for a family was the same. And with the help of a kindly zookeeper, Roy and Silo got the chance to welcome a baby penguin of their very own.

"Drawn Together," words by Minh Le, pictures by Dan Santat

When a young boy visits his grandfather, their lack of a common language leads to confusion, frustration, and silence. But as they sit down to draw together, something magical happens—with a shared love of art and storytelling, the two form a bond that goes beyond words. An amazing book with a sweet message, this book might help students think about new ways to connect with people around them as they prepare to visit family during winter break.  

"Family Reunion," words by Chad and Dad Richardson, pictures by Ashleigh Corrin 

In this contemporary #OwnVoices tale, a boy is reluctant to go to his family reunion, which he's sure will be boring. Vivid, poetic language and rich illustrations bring readers along for the boy's emotional journey, as he ultimately finds himself enjoying the large and joyous gathering in spite of himself. This modern kid's-eye view depiction of a Black American extended family celebrates the importance of kinship and intergenerational ties. 

"Going Home," by Eve Bunting, pictures by David Diaz

Christmas is coming, and Carlos and his family are going home. As Carlos drives with his family across the US border to Mexico, he experiences conflicting feelings. Mexico doesn't seem like home to Carlos, even though he and his sisters were born there. This story captures the challenge of the "in-between" identity of immigrant children and offers an easy way to talk about the complex feelings. Can home be a place you don't really remember?

"I Dream of Popo," words by Livia Blackburne, pictures by Julia Kuo

When a young girl and her family emigrate from Taiwan to America, she leaves behind her beloved popo, her grandmother. She misses her popo every day, but even if their visits are fleeting, their love is ever true and strong. Beautifully explores what it's like for a child to move across the globe and the toll that family separations can take.   

"Kimotinâniwiw Itwêwina/Stolen Words," words by Melanie Florence, pictures by Gabrielle Grimard 

When a little girl comes home from school one day and asks her grandpa how to say something in his Cree language, he is sad that he cannot teach her. He tells her that his words were stolen from him when he was taken to live at a residential school as a boy. The little girl then sets out to help her grandpa find his language again. Beautifully told, multi-generational book.  Some of the words simply take your breath away.  "I don't remember." "They took our words and locked them away.  Author Melanie Florence includes six Cree words with pronunciations at the end of the book. 

"Thank you, Omu!" by Oge Mora 

Everyone in the neighborhood dreams of a taste of Omu's delicious stew! One by one, they follow their noses toward the scrumptious scent. And one by one, Omu offers a portion of her meal. Soon the pot is empty. Has she been so generous that she has nothing left for herself? Beautifully illustrated with cut paper designs (possible art project?), students will enjoy this book.  Would be a great companion to Stone Soup.  Caldecott Honor Book and Coretta Scott King Award Book as well.
Tags