Monthly Highlights – October 2021
Blog Posts
Featured Teaching Resources
Current Events
Join us for the "Civic Engagement, Taking Action, and the State Seal" Yearlong Series beginning this November. This series aims to advance a vision of civic learning that is holistic, democratic, rooted in inquiry, and directly relevant to our students and their communities. If you are interested in participating in the yearlong conversation, please visit our registration page

here

.

Although the California Recall election has passed, you can use our recent

Current Context

to help students become more media literate and to reflect on the benefits/drawbacks of direct democracy. See the

Current Context

issue

here

. 
Teacher Spotlight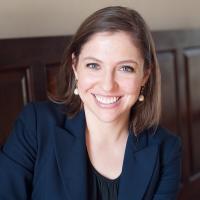 Dr. Lindsay M. Chervinsky is the Senior Fellow at the Center for Presidential History at Southern Methodist University. From podcasts to editorials to monographs, she is committed to teaching history that is accessible for multiple audiences. As a historian of Early America, the presidency, and the government, Chervinsky produced the first comprehensive study of the executive branch in her most recent book, The Cabinet: George Washington and the Creation of an American Institution. Throughout the book, Chervinsky probes into power and politics, revealing that "the formation of the cabinet thus embodies the emergence of the United States..." (12)
Featured Picture Books
I Voted: Making a Choice Makes a Difference

by Mark Shulman

Explains the concept of choosing, individually, and as a group, from making a simple choice to even more complicated decisions, like electing community representatives.  Many age-appropriate examples (e.g. playground issues!) make this title terrific for primary grades.

Mumbet's Declaration of Independence

by Gretchen Woelfle

The story of Mumbet, a Black woman enslaved in Massachusetts at the time of the Declaration of Independence in 1776. Knowing that freedom and equality should belong to her as well, Mumbet successfully brought a lawsuit against her owners to be free and chose the name Elizabeth Freeman.  A nice biography of Mumbet (Elizabeth Freeman) can be found

here

.  Note:  It can be challenging for fifth-grade teachers to find topics about enslaved people during the Revolution.  This title highlighting a Black woman who fights for her freedom after servitude is quite a find.  

Together We March: 25 Protest Movements That Marched Into History

by Leah Henderson

For generations, marches have been an invaluable tool for bringing about social change. People have used their voices, the words on their signs, and the strength in their numbers to combat inequality, oppression, and discrimination. They march to call attention to these wrongs and demand change and action, from a local to a global scale.  Nice compilation of movements.  Easily accessible for upper elementary and middle school students and would make a terrific class research project and/or presentation.  

When You Look Out the Window: How Phyllis Lyon and Del Martin Built a Community

by Gayle E. Pitman

T

he story of Phyllis Lyon and Del Martin, one of San Francisco's most well-known and politically active lesbian couples. Describing the view from Phyllis and Del's window, this book shows how one couple's activism transformed their community and had ripple effects throughout the world.  This book provides a FAIR Act opportunity and a great example of grassroots organization.

Alejandria Fights Back! La Lucha de Alejandria!

 by Leticia Hernandes-Linares and the Rise Home Stories Project

Nine-year-old Alejandria loves her apartment and her community.  Sadly, her city is changing and rent prices are going up.  Many of her neighbors are leaving because they can no longer afford their homes.  Alejandria's mother receives an eviction notice and Alejandria is not about to give up and leave.  Great story about community activism and a concrete example of how students can participate in local government.  This title could also be used as a bridge to address the housing inequities experienced by residents of the United States.
Recent Scholarship
Alison Perlman,

Public Interests: Media Advocacy and Struggles Over US Television

(2016)

"Public Interests fills in a key piece of the history of American social reform movements, revealing pressure groups' deep investments in influencing both television programming and broadcasting policy. Vividly illustrating the resilience, flexibility, and diversity of media activist campaigns from the 1950s onward, the book offers valuable lessons that can be applied to current battles over the airwaves.
This book is useful for 12-grade civics teachers, as it focuses on the role of electronic media as a means of communication in American politics (Standard 12.8.2). 

Daniel Sargent,

A Superpower Transformed: The Remaking of American Foreign Relations in the 1970s

(2015)

"In A Superpower Transformed, Daniel J. Sargent chronicles how policymakers across three administrations worked to manage complex international changes in a tumultuous era...a must-read for anyone interested in U.S. foreign relations, American politics, globalization, economic policy, human rights, and contemporary American history."

This book could help inform 11th-grade lesson plans on the Cold War. It meets CA Standard 11.9.3, which addresses the origins and geopolitical consequences of the Cold War. Additionally, it meets Standard 11.9.4, which addresses the effects of foreign policy on domestic policy and vice versa - in this case, how members of Congress and the American public demanded that the executive branch to prioritize human rights in foreign policy. 

Eric Rauchway,

Why the New Deal Matters

(2021)

"The greatest peaceable expression of common purpose in U.S. history, the New Deal altered Americans' relationship with politics, economics, and one another in ways that continue to resonate today...This book looks at how this legacy, both for good and ill, informs the current debates around governmental responses to crises."

See the 

"Rethinking Civics Education" blog post to learn more about Rauchway's Why the New Deal Matters.

Erik Engstrom and Jason Roberts,

The Politics of Ballot Design: How States Shape American Democracy

(2021)

"[This] book shows how strategic politicians use ballot design to influence voting and elections, drawing comparisons across different periods in American history with varying levels of partisanship and contention. Engstrom and Roberts demonstrate the sweeping impact of ballot design on voting, elections, and democratic representation."

Gregory P. Downs,

The Second American Revolution: The Civil War-Era Struggle over Cuba and the Rebirth of the American Republic

(2019)

"Here Gregory P. Downs argues that we can see the Civil War anew by understanding it as a revolution. More than a fight to preserve the Union and end slavery, the conflict refashioned a nation, in part by remaking its Constitution."

This book is useful for 11th-grade teachers who need to teach the history of the Consitution after 1787 and explain the debate over federal versus state authority (Standard 11.1.3). 12th-grade teachers might also use this book to help students understand tensions within our constitutional democracy and how the Civil War fundamentally changed how the federal government operated (Standard 12.10). 

Lindsay M. Chervinsky, The Cabinet: George Washington and the Creation of an American Institution (2020) 

"Chervinsky reveals the far-reaching consequences of Washington's choice. The tensions in the cabinet between Hamilton and Jefferson heightened partisanship and contributed to the development of the first party system. And as Washington faced an increasingly recalcitrant Congress, he came to treat the cabinet as a private advisory body to summon as needed, greatly expanding the role of the president and the executive branch."
This book provides a useful case study for 12th-grade civics students. In particular, Washington's decision to create a cabinet reflects an important development in presidential power and decision-making (Standard 12.7.8). 

Shauna L. Shames, Rachel I. Bernhard, Mirya R. Holman, and Dawn Langan Teele (eds),

Good Reasons to Run: Women and Political Candidacy

(2020)

"The editors and contributors to Good Reasons to Run, a mix of scholars and practitioners, examine the reasons why women run—and do not run—for political office. They focus on the opportunities, policies, and structures that promote women's candidacies"

This book provides insight into women's political participation that could lead to a productive conversation in 12th-grade classrooms. Additionally, it directly addresses Standard 12.6.4, which requires that students describe the means that citizens use to participate in the political process. 
Tags